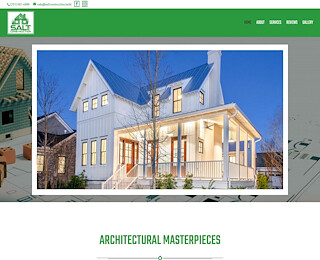 Salt Construction is a custom home builder in Orange Beach specializing in ground-up custom home builds, remodels and home additions. We serve Daphne, Gulf Shores, and other local communities. One of the most common questions we get asked is about our custom home builds is "how much is a custom home going to cost me?" For this reason, we typically give our clients two quotes - an initial ballpark quote upfront and an exact quote once the plans are drawn up.
Giving Quotes for Custom Home Builds
Because of our extensive background in custom home design and home building, when we work for a client as their general contractor, we listen to what they want and give them an approximate quote to provide them with an idea of what the cost of executing their vision might be. We factor in everything from labor to materials and everything else. Of course, this is not an exact quote. However, our upfront quotes are typically very accurate, unless the client makes major changes to his/her project.
As an honest and transparent custom home builder in Orange Beach, it is our job to inform our clients about the many expenses of building a custom home. We tell our clients all of the expenses they can expect to pay at the outset so that they aren't hit with unexpected costs once the project is started.
Lot Cost Vs. Home Cost
The cost of the lot that the home is being built on is usually a very good indicator of how much a custom home construction is going to cost. As an experienced custom home builder, we find that the lot cost is typically between 20 - 30% of the cost of building the custom home. Therefore, if a client has a lot that's $60k, they're probably not going to build a million-dollar home.
The Size of Your Custom Home Build Matters
If you are paying $120 per sq. ft., and your custom home will be 3,000 sq. ft., you can expect a much larger price tag than you would if your custom home was 1,000 sq. ft. Obviously, larger homes have larger expenses.
The Finishes of Your Custom Home
Between the cost of everything from cabinetry to technology and modern appliances, the cost of a custom home will be affected significantly. For example, if a client wanted to build a solar panel on their roof, you can be sure that the cost is going to be much more than if they opt for a metal roof or a traditional asphalt shingle roof. Likewise, making a home tech and eco-friendly usually leads to substantial long-term savings, but they are typically a bit of an investment up front.
Contact Salt Construction
If you are in the market for a custom home builder in Orange Beach, contact Salt Construction today. As your general contractor, we'll add value to your project in ways unforeseen. We'll help you save money, time, and stress.
Custom Home Builder Orange Beach
Salt Construction
2515974999
82 Plantation Pointe Suite 292, Fairhope, AL 36532
View Larger Map
We welcome your comments!
SALT CONSTRUCTION LLC
CODY DORRIETY
HOURS OF OPERATION
Monday to Friday
7:00 AM - 5:00 PM
Saturday to Sunday
Closed