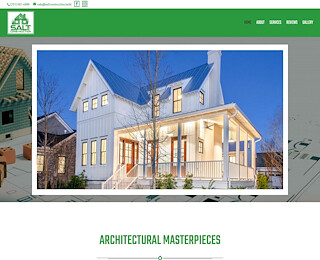 The only thing better than a brand new home is a brand new custom home built exactly to your specifications, and Salt Construction is a general contractor that delivers premium custom home construction in Daphne, Gulf Shores, and Orange Beach. Our job on each construction project we manage is to make our clients' dream homes come true. For this reason, we work closely with our clients from start to finish, including during the planning phases, when hiring sub-contractors, when acquiring materials and during every other phase of the custom home construction process.
Our Experience Comes into to Play
You could say that Salt Construction has a knack for learning exactly what our clients want, then building it to a T. A lot more goes into turning a custom home vision into reality than most people realize. That is why we are thorough and transparent with our clients every step of the way. Of course, it all starts with a phone call! Salt Construction invites you to call us for a quote.
When a prospective client calls us to bid on a custom home build in Daphne, the first thing we like to do is set a time to meet with them. During this initial meeting, we'll get a clear understanding of what the prospective client wants, how much they're wanting to spend on their custom home project, and when they would like to see the project completed. With our experience and expertise, we are able to give them a ballpark quote of what it would it cost, how long it should reasonably take, and any potential problems there might be in executing their vision and what the potential solutions are.
Let's Get the Construction Ball Rolling
After this initial meeting, we'll work with the client to get the permits needed for the build and work with an architect to draw up the blueprints. Once approved by you, and once we have our permits, we'll quickly get all the trades together, and we'll serve as your point of contact or general contractor throughout the project, making sure everyone from the painter to the plumber to the electrician gets their jobs done correctly and on time.
Because of our experience, we have developed significant relationships with some of the best sub-contractors and materials suppliers in the region. Therefore, we're able to get the best products and services for our clients by comparing prices and choosing the best value.
Have You Considered a Custom Addition or Remodel?
For clients who either want to stay in their current homes and for those or are looking save money, a custom home addition or a custom home remodel can effectively provide you with that new home feel that you're looking for without burdening you with a move. In addition to custom home construction in Daphne, Salt Construction also provides home additions and remodels. Just give us a call, and we'll meet with you to discuss your project and see if we can be of any assistance.
Custom Home Construction Daphne
Salt Construction
2515974999
82 Plantation Pointe Suite 292, Fairhope, AL 36532
View Larger Map
We welcome your comments!
SALT CONSTRUCTION LLC
CODY DORRIETY
HOURS OF OPERATION
Monday to Friday
7:00 AM - 5:00 PM
Saturday to Sunday
Closed