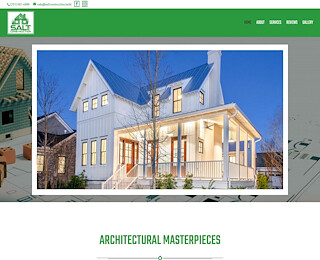 Metal Roofing Contractor in Orange Beach
The story of why the southern border of Alabama has such a small section of the Gulf Coast beaches is a convoluted tale that dates to the 1700s and later with the Louisiana Purchase of 1803. The current map of Alabama shows that only the southwesternmost counties of Mobile and Baldwin having any beachfront property with the town of Orange Beach being the most prominent destination for beachgoers.
Fairhope, Alabama lies about an hour drive northwest of Orange Beach and is the home of Salt Construction LLC. We are a group of professional builders, remodelers and a metal roofing contractor in Orange Beach and all of Baldwin County. Salt Construction is headed by hometown resident Cody Corriety, a University of Alabama graduate and a construction specialist. His passion is to build or improve people's houses in Fairhope and surrounding neighborhoods. 
Metal vs Asphalt
Aside from the foundation, the roof is the most important feature of any house as it provides the shelter from rain, hail and direct sunlight. It is a visible feature that will help determine the value of the structure. The two most common roofing materials are asphalt shingles and metal, and each has their own benefits and drawbacks. Let's look at a few of these to compare:
Lifespan – a metal roof that is properly installed and maintained can last 50 to 100 years. Asphalt shingles will need to be replaced about every 15 to 20 years. Corrosion is the biggest foe of steel, but galvanizing will prevent corrosion. Bare aluminum will corrode but the aluminum oxide corrosion serves as a protective barrier against further corrosion.
Cost – The cost of asphalt shingles will be less than metal, but this must be weighed against the need to replace asphalt shingles more often. If you plan to stay in your house for a long time (over 20 years) the extra initial cost of metal may be a better choice.
Calamities – The Gulf Coast is vulnerable to hurricanes and your roof will need to be able to withstand high winds. No roof will survive a direct hit from a category 5 hurricane, and weaker storms can damage as well. Metal roofs can be dented by falling debris but overall it is the better choice for high winds. Metal is essentially fireproof as well
Repairs – the edge goes to asphalt shingles as they are easier to install and to replace over a small area. Replacing a large damaged metal roof section is more difficult and thus costlier.
Appearance – This all depends on your preference, but metal shingles can be made to mimic the look of almost any material.
Shop Widely
One of the main considerations with any home improvement project is to select the right contractor for the job. Look for a professional demeaner and check out that the contractor has references and the credentials to install that new metal roof. Consider as well that Salt Construction has a special branch of the company that will provide the needed expertise on metal roofing if that is your choice.
If you are looking for a metal roofing contractor in Orange Beach, the first call to make is to Cody at Salt Construction LLC. The phone number is 251-597-4999 or you can send an email to cody@saltconstructionllc.build. An online form is also available to reach Salt Construction.
Metal Roofing Contractor Orange Beach
Salt Construction
2515974999
82 Plantation Pointe Suite 292, Fairhope, AL 36532
View Larger Map
We welcome your comments!
SALT CONSTRUCTION LLC
CODY DORRIETY
HOURS OF OPERATION
Monday to Friday
7:00 AM - 5:00 PM
Saturday to Sunday
Closed