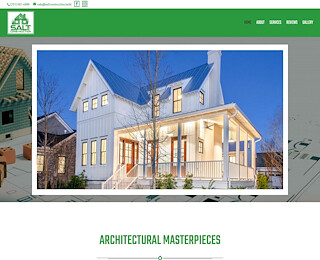 Residential Contractor in Mobile County
If you own an apartment, a condo, or a house, there any many ways your dwelling can be reconstructed to fit your needs and give you a living space which is perfect while upgrading the value of your own haven.
Residents are fortunate because Fairhope, Alabama in Mobile County is the headquarters of Salt Construction LLC. We are a commercial and residential contractor in Mobile County owned and operated by Cody Corriety, a native of Fairhope and a graduate of the University of Alabama.
Options to Consider
Our crew can help turn your house into the home you have always wanted. Let's explore some ways this can happen:
The Kitchen – Most kitchen remodels involve upgrading the fixtures, sinks, and countertops. By adding a center island, you can have a new area to make the preparation of foods and gather with friends and family. This is the time to replace outdated appliances, put in new cabinets or reface the existing ones.
Bathrooms – For those on a modest budget, the remodel of a bathroom can be a simple upgrade of the toilet, shower, sink, and vanity. More elaborate additions like Jacuzzi bath, a steam shower, and heated flooring can make your bathroom a place of luxury. The possibilities are endless with bathroom floor tiling, lighting fixtures, and cabinets.
Basement – If your home has a basement, consider converting it into additional living space. Humidity, flooding, and pests are the main concerns with basements but qualified residential contractors like Salt Construction have the expertise to create drainage and ventilation to deal with these issues. Basements also make a great place to build a recreation area with a pool table, large screen TV and a couple of recliners.
Attics – Normally a place with exposed insulation and used to store Christmas decorations, an attic remodel can create a small bedroom, office or simply a place to store more of your stuff. Attic remodels can also improve the energy efficiency of your entire house with new insulation installed as part of the remodel.
Room Additions – A spare room in your house will add needed space and can be a second living room where you can escape to watch the big game when your kids are dominating the main TV watching YouTube videos. Another option is a home office to operate a small business out of. A third use, if you cannot bear to see an elderly parent move into an Assisted Living Facility and pay a large monthly fee, is to add a room for Grandma so she can spend her remaining days with her family.
Adding a garage, removing or adding a wall, adding a patio or a swimming pool are other home improvements to consider.
Contact Cody Now
Whatever way you choose to improve your home, you will need to use a qualified professional residential contractor in Mobile County like Salt Construction LLC to help you in all the phases of planning, purchasing of materials and construction.
Your haven should be a place to relax, entertain or simply enjoy and even minor renovations can help you meet that goal. Folks in Mobile County can call us at 251-597-4999 or send him an email at cody@saltconstructionllc.build.
Residential Contractor Mobile County
Salt Construction
2515974999
82 Plantation Pointe Suite 292, Fairhope, AL 36532
View Larger Map
We welcome your comments!
SALT CONSTRUCTION LLC
CODY DORRIETY
HOURS OF OPERATION
Monday to Friday
7:00 AM - 5:00 PM
Saturday to Sunday
Closed